Why are we running this project?
The lectureship program of the Robert Bosch Stiftung supports young people who teach German as a foreign language or run educational projects at Asian universities. They are actively involved in the educational activities of their university location, are committed to matters of international understanding, and continue to develop on both a personal and professional level. The year-long program comes with an extensive range of training in educational and project management as well as individual coaching.
The program targets lecturers in China, South Korea, Thailand, Vietnam, and Indonesia, and is open to both university graduates from Germany, Austria, or Switzerland and university lecturers from the above-listed Asian countries who take a particular interest in teaching and project work.
What are our goals?
International understanding
Encounters and dialog are the primary tools in establishing a sustainable basis for an understanding of different cultures and international cooperation. Their extensive experience abroad makes grant holders in the lectureship program ambassadors of their own as well as the host country's culture.
Commitment
The lectureship program promotes civic participation and taking responsibility in one's own environment. Through project work and the design of active teaching and learning processes in particular, the lecturers contribute to the development of an active civil society.
Professional qualification
Customized training opportunities in teaching, project management, and core competences support the lecturers' professional qualification – both for their work in the program countries and their further careers.
Educational tasks
The lectureship program supports young talent in developing their full potential. The lecturers' teaching and project work offers ample room for developing creative ideas, expanding one's skill sets, and forming a cosmopolitan and well-reflected mindset.
Multilingualism
Being multilingual is key to successful global cooperation and intercultural understanding. Promoting language skills through the lectureship program is an important step in giving young people the tools they require to act on a linguistic and intercultural level.
Who are the target groups?
The lectureship program of the Robert Bosch Stiftung addresses two target groups, which each go through specific, tailored parts of the program while cooperating closely with each other.
University graduates in the humanities, social studies, law, and economics from Germany, Austria, and Switzerland (lecturers from D-A-CH countries) teach German as a foreign language and run educational projects at the respective guest university. They receive further training in educational and project management as well as individualized coaching.
Junior scientists and lecturers from the program countries who take a special interest in teaching and project work are also supported through the lectureship program (local lecturers). They participate in further trainings focusing on key competences and convey this knowledge to others at their respective university; they are also encouraged to get involved in educational projects.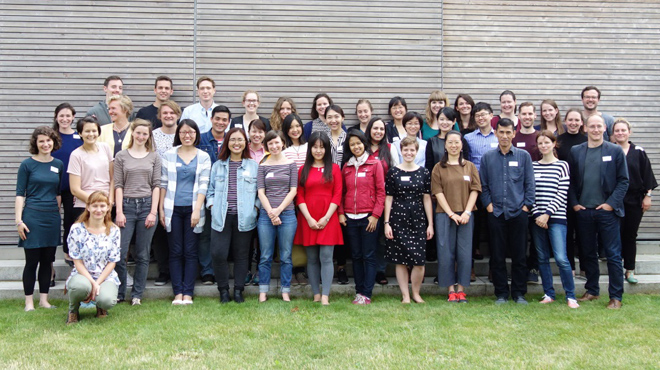 June: The Kick-Off-Event in Paretz near Berlin is the starting point into the Lectureshop Program. This is where the program participants learn basic information about the program, the Robert Bosch Stiftung, MitOst e.V. and the first training seminars.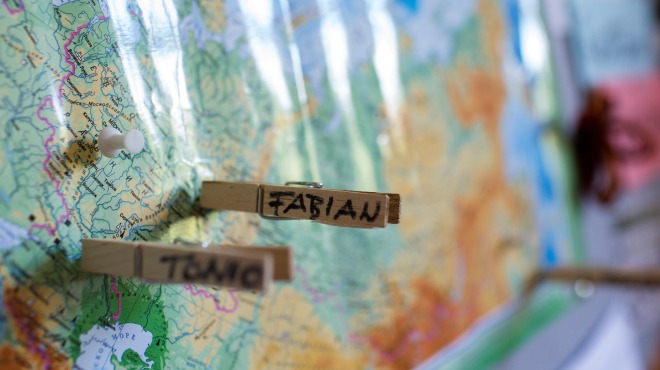 September: At the beginning of the winter semester, the Lecturers from Germany, Austria and Switzerland head off to the locations of their lectureships, immerse themselves in a foreign culture, and gain initial teaching experience with their contacts at the university departments and the local lecturers. Working at the German Departments the local lecturer develope ideas and concepts for interactive and modern didactics.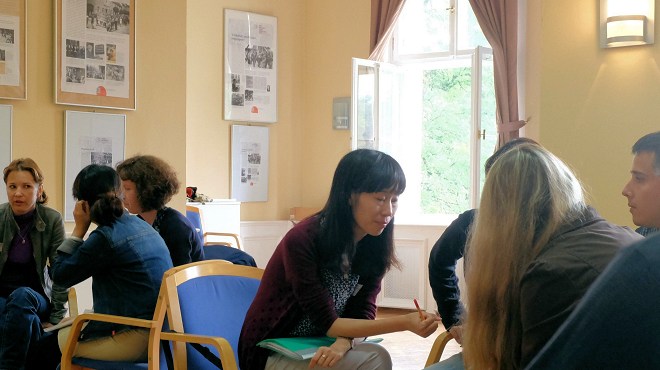 November: The fall academy in one of the partner countries is the first intermediate meeting of all lecturers. The focus here is on networking and advanced training on topics such as project management and key competencies.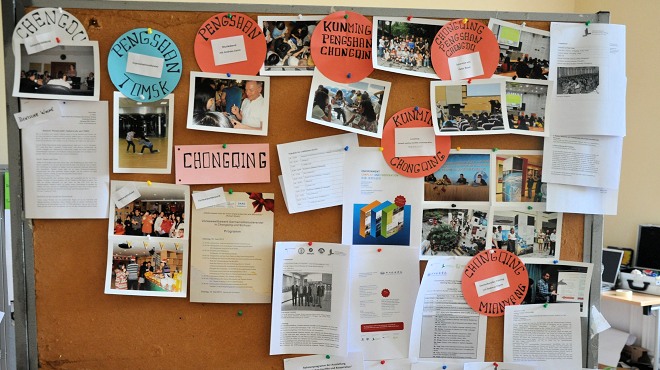 November - April (Lecturers Germany-Austria-Switzerland): By organizing educational projects, the lecturers play an active role in shaping life at the universities and develop their own professional skills.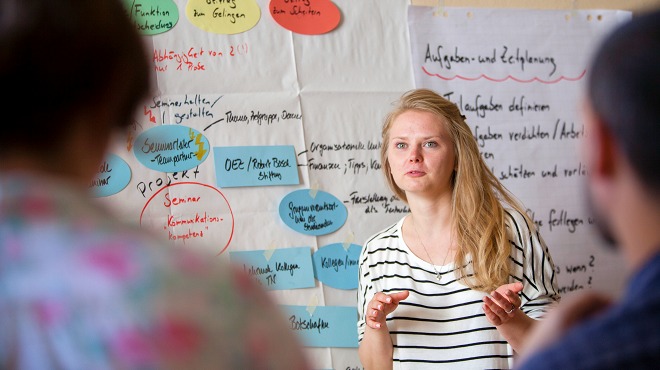 November - April (Local Lecturers): The lecturers pass on their acquired knowledge of key competencies in workshops at universities. During this period, they receive professional assistance and coaching.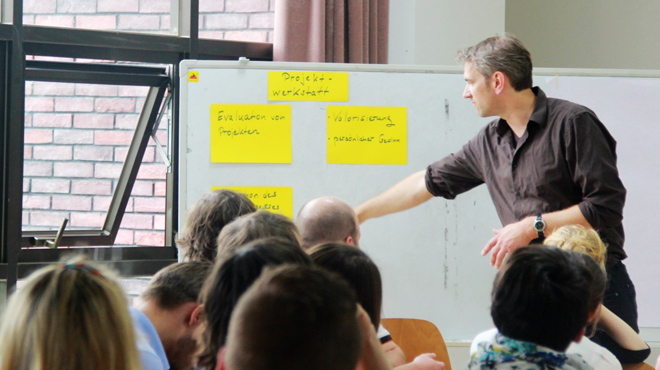 April: The spring academy is the second intermediate meeting of the lecturers DACH and focuses on the further development evaluation of the projects being carried out.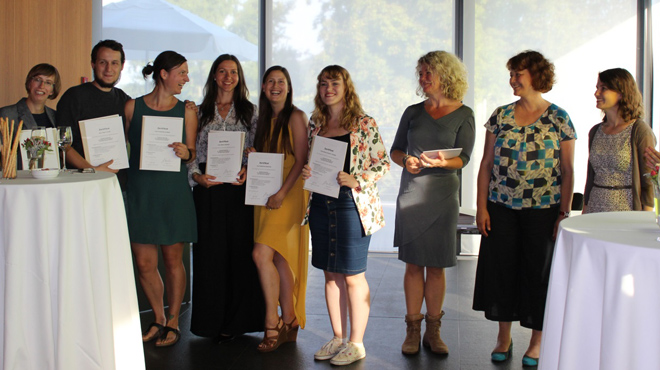 September: The final academy and the graduation form the conclusion to the participants' time as lecturers.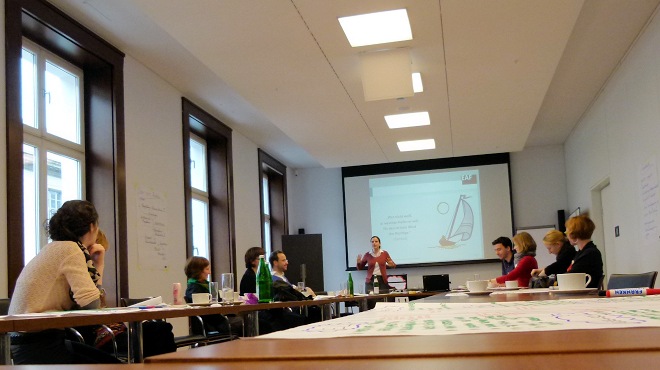 In the mentoring program, former lecturers support a portion of the new alumni during the transition from the lectureship to the working environment.
Previous
Next
How does the project work?
Teaching
Lecturers are part of a university department where they teach German as a foreign language or specialist language. Besides their teaching obligations, they advise students and colleagues on issues relating to Germany and organize extra-curricular activities.
Project work
During their year with the program, lecturers run at least one education project in the respective program country. The focus in project activities is on topics such as educational management, sociopolitical and intercultural education, personal development, and further training for education professionals.
Examples of successful education projects:
"DaFortBildung": vocational training for local teacher's staff in Xi'an and Xuzhou/ China, Bangkok/ Thailand and Seoul/ South Korea
"RaCAMAha": Belarusian-German Festival for Women in Baranovichi/ Belarus
"KulturCafé": place for young people in Naryn/Kyrgysztan
"Co-Teaching": new approaches in teaching German in Dalian/ China
 
More details about the project please find here: Examples of education projects (PDF) (German)
Further training
Besides teaching and project work, the program year comes with an extensive range of training in educational and project management as well as individual coaching. Furthermore, lecturers receive in-depth training in key competences such as teambuilding, rhetoric and presentation techniques, conflict management, and managing meetings and negotiations. The training courses offered were specifically developed for the lectureship program and tie in perfectly with training-based project workshops and advanced seminars.
Where is the project run?
The program is situated in China, Indonesia, Korea, Thailand and Vietnam.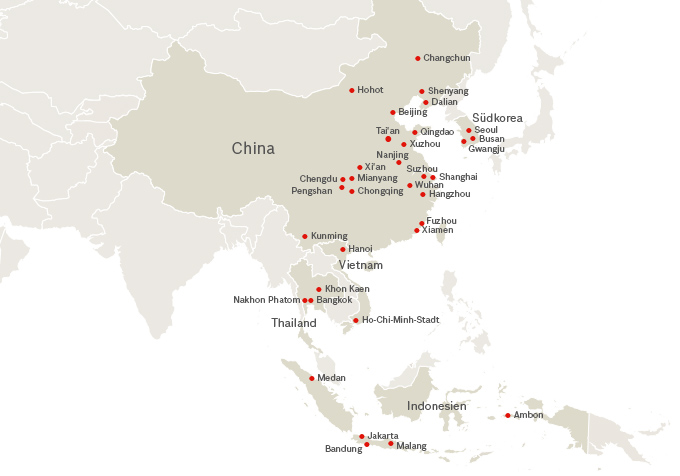 Fellows are currently working in these countries and citie.
Who organizes and sponsors the project?
The project partner is MitOst e.V., a nonprofit organization founded in 1996 by former lecturers of the Robert Bosch Stiftung as a platform for further networking and project work. The organization's activity profile and network has been growing ever since. Today, MitOst serves as an umbrella organization for several cooperation programs, numerous international projects, the work of ten alumni groups, the annual MitOst Festival, and the diverse involvement of 1,400 MitOst members from 45 countries.
What additional offerings exist?
MitOst alumni association
Close to 1,700 people, including local lecturers, have taken part in the so far 20 years of the lectureship program. At the first alumni meeting of these lecturers in 1996, the alumni association of MitOst e.V. for alumni of different programs of the Robert Bosch Stiftung was founded. It also aims to provide a platform for networking and professional exchange.
Network
The alumni have an internal mailing list, which is a platform to exchange information, organize regional meetings, and share job offers and event tips. Furthermore, there are a Xing group and a closed Facebook group so that former lecturers can find familiar faces and promote their activities.
Alumni activities (such as regulars' tables or smaller meetings) are organized on a regional level in (former and present) program countries.
The Bosch Alumni Berlin initiative was set up to strengthen contacts among Bosch alumni, also across programs and the exchange with the Robert Bosch Stiftung. Once or twice a year, former and current grant holders get together at unusual places around Berlin, such as the Oderberger Straße public pool or Turm 18 at Frankfurter Tor.
For further information and contacts, please see the lectureship pages of MitOst e.V.:
www.mitost.org/lektorenprogramm
Mentoring program for lecturers
The mentoring program aims to facilitate lecturers' transition from their lectureship year to a professional position by drawing on the experience of a mentor. Mentors are alumni of the lectureship program who have launched a full career. They support their mentees during the last six months of the lectureship and the first six months after its completion, so for a total of twelve months. The exchange between mentor and mentee focuses on topics such as career start or reentry, orientation in everyday working life, career planning, and mutual learning.
The program gives mentors insight into the current lectureship program and an opportunity to connect with other alumni. Thanks to the links with current lecturers, they receive firsthand information from the program countries and may even visit their respective mentees there. Last but not least, the seminar units of the mentoring program contribute to one's personal development.
Das Lektorenprogramm der Robert Bosch Stiftung sucht eine studentische Aushilfe!
Zur Unterstützung der Programmkoordination sucht MitOst e.V. zum nächstmöglichen Zeitpunkt eine studentische Aushilfskraft (Arbeitszeit: 40h/Monat). Die Bewerbungsfrist ist der 05.06.2018.