Insights
In post-industrial societies, data, as well as data-driven technologies, are seeping into many aspects of life -...
The latest increase in lone wolf attacks in Europe, the United States, and in parts of Asia highlights the threat...
Following the containment of Ebola,reforming global health governance and improving pandemic detection and response...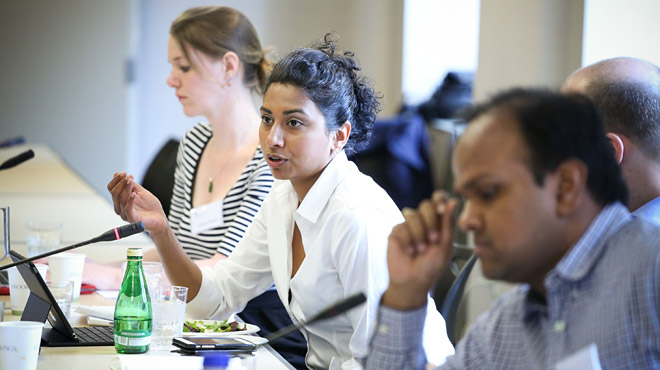 Ralph Alswang
Fellow Shireen Santosham works for the mayor of San Jose, California, and is part of making the city a "smart city".
In brief
About the project
The Global Governance Futures - Robert Bosch Foundation Multilateral Dialogues program (GGF) brings together young professionals - representing the academic, public, private and NGO sectors - to look ahead 10 years from now and recommend ways to address key global challenges. The program assembles 27 fellows from the NGO sector, academia, public administration and the private sector. Over the course of 18 months, the fellows will meet in four dialogue sessions that take place in the participating countries. They will collaborate and engage in challenging discussions within and across their working groups, meet with leading experts and policymakers in each host country, receive training in the GGF scenario planning methodology and produce scenario reports with policy suggestions for effective and accountable governance. The GGF fellows will disseminate the results of their working group sessions through reports, op-eds in major publications, journal articles and high-profile presentations. The program takes place in cooperation with the Global Public Policy Institute e.V. (GPPi) in Berlin. Additional partners are the Brookings Institution, Tokyo Foundation, Centre for Policy Research, Hertie School of Governance, Tsinghua University, Fudan University, Keio University, Ashoka University, Princeton University, Fundação Getúlio Vargas, Institut français des relations internationales, South African Institute of International Affairs as well as the Centre for Strategic and International Studies.
More information on the topic
You are interested in learning more about Global Governance Futures? Visit the project's website
Contact at Robert Bosch Foundation